Recent Happenings
No Recent Site Updates
06.21.17 - Hello there. So, I have not updated the site in a long while. That doesn't mean I haven't been doing anything - I just haven't been updating it on the web. Website updates are coming soon! In the meantime, check out some old Trumpet Moments.
Summer Show in NYC
04.24.14 - We are very excited to announce a show on Friday, July 11th at one of our favorite venues called the Rockwood Music Hall in NYC! New songs!
Past Happenings
I have lived in various sections of the U.S. but moved to Brooklyn, NY about eight years ago. (I love Brooklyn!) Now I'm on the UWS (the Upper West Side) on Manhattan. It's pretty great here, too. Most of my time is spent tutoring math to gradeschoolers and playing trumpet. I love both of these things, too. Free time is filled with composing Trumpet Moments and designing websites for friends.
Upcoming Shows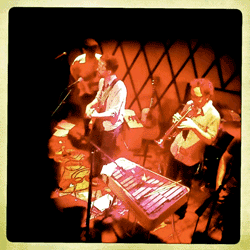 Hello there. I don't have any shows booked right now, but most recently I've been playing with The Quavers and Niall Connolly (above photo). Maybe one day I'll get it together enough to play a Trumpet Moments live show. I'll do my best to keep you updated.